What Training Does a Wilson Healthcare Security Officer Receive?
Wilson Security has been on the cutting edge of protective services since its inception. That's why we're the team Australian healthcare sectors trust to provide protection and security solutions. Our officers receive exceptional training as they prepare for their roles as security personnel, ensuring that they can offer healthcare facilities the most superior care.
Everyone deserves to feel safe when they go to work, but devastating statistics reveal that a large majority of healthcare workers – the people who keep our communities healthy – feel threatened in the workplace.
At Wilson Security, we stand up for the people who look after our most vulnerable. We are committed to ensuring that staff can go about their duties without fear of violence from patients, visitors, or even other staff. But we're not just trained to look after staff; each healthcare officer is specially trained to de-escalate situations with confused or erratic patients, and emotional family members or visitors.
The selection process
Prospective security officers undergo rigorous evaluation before they are inducted into Wilson Security's elite force. Core competencies are tested, and tests for literacy, numeracy, and probity must be completed to a satisfactory standard. We only select the most outstanding candidates to advance to training.
Providing physical protection
Our officers – particularly those employed in the healthcare setting – may be required to intervene in physical altercations. This requires them to undertake training to ensure they can handle themselves safely in a physical scuffle, not using excessive force, and maintaining a clear head. For security personnel stationed on patrols, a certain degree of physical fitness ought to be maintained.
Specific healthcare training
As with any role in healthcare, specialised training is a necessity – and healthcare security officers are no different. The healthcare industry is multifaceted, and the level of security that is required in one type of facility may not be effective. For instance, a suburban clinic may request an officer to stand by the front door, ensuring that patients interact with staff at reception and other patients in the waiting room with decorum. An inner-city emergency room, however, might require roaming security personnel who patrol the exterior of the ED entrance, the waiting room, and the ward – particularly in the event of violent or aggressive patients.
Of course, this differs entirely for officers stationed at a pharmaceutical company. These officers may not interact with workers or visitors, but must be trained to recognise potential threats to the company. It is a widely varied industry, and so must the training be.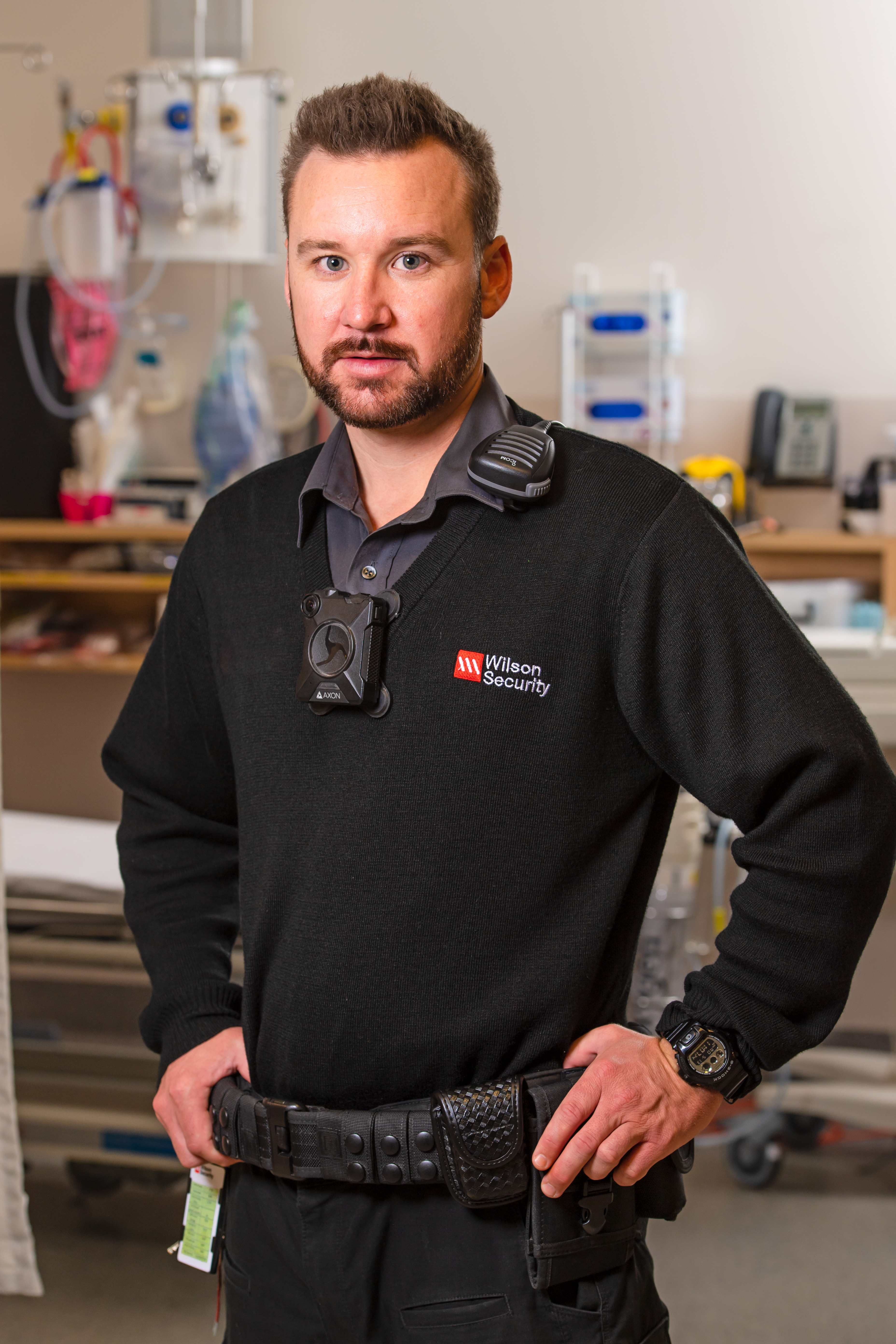 Assisting staff
A security officer in healthcare is not a bodyguard – they are there to ensure that the peace is maintained, and that healthcare staff can complete their duties without looking over their shoulders. A Wilson Security officer can offer staff peace of mind that, in the event of aggressive or violent incidents – help is close at hand.
Protecting patients
Hospitals, clinics, and other healthcare facilities can run high on emotion, and vulnerable patients can find themselves unwittingly in the conflict. Our healthcare security officers are trained to diffuse tense situations to ensure that threats are de-escalated before sick or injured people are in danger.
Ensuring visitors remain calm
It is completely unacceptable for visitors to healthcare facilities to act out aggressively towards staff. Having a security officer on the premises can act as a deterrent to people who may be inclined to violent outbursts. Trained to handle situations involving agitated people, our officers and security personnel can assist in rectifying the situation and ensuring everyone can return to their work safely.
Speak to a Wilson Security Officer
When you choose Wilson Security for healthcare security, you're working with Australia's most elite force. Speak to the experts on 1300 945 766 or reach out on contact@wilsonsecurity.com.au.
View our blog terms and conditions here.