What are the biggest obstacles to effective healthcare security?
The need for a coordinated and health-focused approach to healthcare Australia-wide has never been more apparent. However, it is not as simple as recruiting security officers and positioning them throughout the hospital, clinic, or facility. With the role of a security officer currently existing as a blurred set of responsibilities and powers, it's indicative of a larger problem facing the healthcare in regards to security – why are some sectors of healthcare finding it so difficult to implement effective and appropriate security measures?
Wilson Security has been providing healthcare security solutions for more than 20 years, so we know what kind of obstacles workplaces face when trying to consolidate a security plan. In this blog we discuss what difficulties arise during this process and how Wilson can help you overcome them.
A struggle to get new policies approved
OHS laws firmly state that employees must take reasonable care of their own health and safety in the workplace, but it is also required that employers must maintain also provide and healthy and safe work environment for their staff. This is inclusive of workplace abuse and violence. However, it's not just a matter of hiring security staff. As a provider of security solutions, Wilson Security often respond to clients via procurement channels, rather than being able to discuss issues and potential solves in an open dialogue with the healthcare services.
Having to discuss crucial security information, and ultimately get them instated in workplaces, via these channels often results in the needs of healthcare workers not being heard. To make things more difficult, client and provider processes and procedures may differ, inhibiting their ability to cooperatively manage risk. Unfortunately, this means that decisions regarding security are often cost-based and creates further roadblocks that inhibit the process further town the track.
Staff forgetting to adhere to security procedures
One of the greatest measured threats to a security system is not, in fact, violence. It is complacency – i.e. improper implementation and failure to follow security procedures. With this in mind, it's important that all staff are trained on how to handle certain situations.
Incorporating simple security measures into normal workplace habits is the most effective way to ensure correct procedures are followed. This can include not propping open swipe doors, or allowing members of the general public to pass through staff-only thoroughfares, where they potentially access private or restricted areas. Behaviours like this are counterproductive to maintaining security, and can cause serious flaws in lockdown procedures. Another small way staff can ensure a safe environment is to not leave equipment unguarded that could be accessed by people who might misuse them or use them as a weapon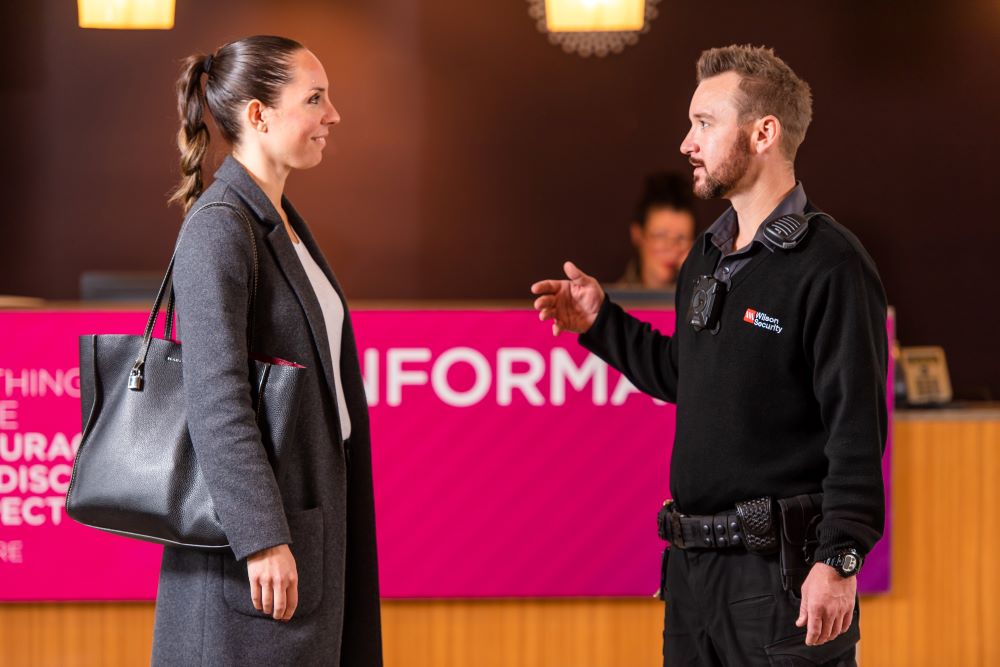 How Wilson can help
Wilson Security is at the forefront of healthcare security; an industry that incorporates such diverse facets as emergency department security, overall hospital security, and other sectors such as aged care, mental health facilities, and general practices. Our focus is on collaborative and integrated security solutions, building these procedures from the ground up. Ultimately, we provide assistance to workplaces so that they can effectively manage the safety of patients, employees, and members of the public. Our security officers are trained to specifically handle healthcare-related events and scenarios and can better protect your assets through the provision of physical and technical security support, products and services.
We understand healthcare sites are different and tailor our services accordingly. Our team is not only comprehensively security trained with a thorough understanding of relevant procedure and standards, but also understand the considerations of their work environment.​
Wilson Security enhances the environment of care and provides specialist security solutions for:
Healthcare facilities and related service providers
Aged care sites
Hospitals
Pharmaceutical companies
To get in touch with our Wilson Security call us on 1300 945 766, email contact@wilsonsecurity.com.au, or fill out an enquiry form online.
View our blog terms and conditions here.