The role of a security officer in healthcare
According to a recent report, there seems to be some confusion in the healthcare industry as to the actual role of a security officer. This is a consistent theme across the board, from hospitals to stakeholders in various healthcare sectors, that there isn't a universal understanding as to the rights, powers, and responsibilities of security staff.
With an increase in aggressive and violent behaviours in hospitals, clinics, and other care facilities across Australia, there has never been a more urgent moment to explain succinctly and unanimously the role of a security officer in a healthcare setting.
What should we call our security team?
Many people – including healthcare professionals, patients, and visitors – make the continuous error of calling security teams 'guards'. This has a certain connotation that does not align with that atmosphere most hospitals strive for, which is why they ought to be referred to as security officers or security staff.
Why do we need security staff?
There are a substantial number of reports regarding acts of aggression in the workplaces of various healthcare facilities. Understandably, a great number of healthcare workers are reluctant to be involved in physical altercations with patients and visitors, which is why specially trained security officers are a vital addition to many workplaces that provide medical care.
What responsibilities do they currently have?
Depending on the specific workplace, a security officer or officers may have certain responsibilities. It is likely that the same threats experienced at the emergency department of a major city hospital are dissimilar to the ones encountered at a rural general practice clinic.
Currently, security officers attest to being asked to perform duties that are outside or beyond their job description. This includes being treated like bouncers – gatekeepers, responsible for vetting visitors to the hospital/clinic/facility. As highly trained professionals, their skillset far exceeds that of a doorperson.
The roles and powers of security staff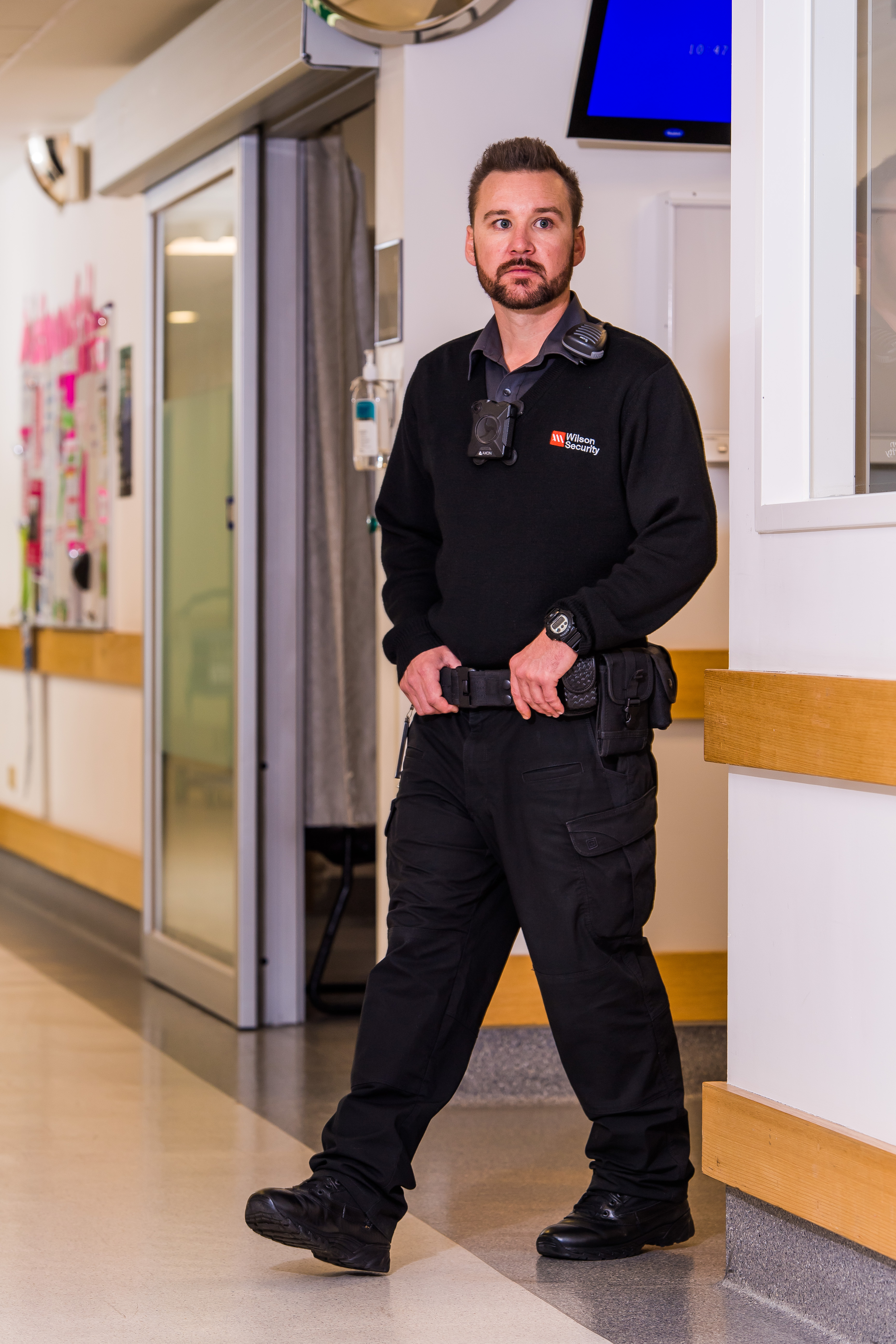 Security staff should be treated as a part of the larger healthcare team, working collaboratively with other members to present a unified, ordered presence. They assist with managing patients, provide guidance and direction to visitors, protect staff, and secure assets.
Security officers currently undergo training specifically regarding security in healthcare, as well as violence prevention and management programs. Of course, further training may be required depending on the workplace. Ultimately, the role is primarily focused on de-escalation of violence and acts of aggression. Security staff are not police officers and should not be called upon to perform the same duties.
How healthcare workers can help
Clinicians and healthcare workers should be apprised of the responsibilities of security officers. Everyone in the workplace should understand the role of each member of their team. This results in a streamlined response to threats and acts of aggression, with each person knowing what their duty is and who their points of contact are. They ought to include the security officers into their team discussions that concern security protocols and incidents, including huddles and debriefs.
How Wilson officers can protect your healthcare staff
We are proud to be one of Australia's leading providers of healthcare security solutions. As healthcare is such a diverse industry, we make it a priority to learn the specific needs and requirements of each workplace so that we can tailor a security solution for you. As healthcare is a workplace that operates in real-time – meaning that serious events need to be dealt with swiftly – our officers are trained to quickly assess and respond to threats appropriately and effectively.
To get in touch with our Wilson Security call us on 1300 945 766, email contact@wilsonsecurity.com.au, or fill out an enquiry form online.
View our blog terms and conditions here.